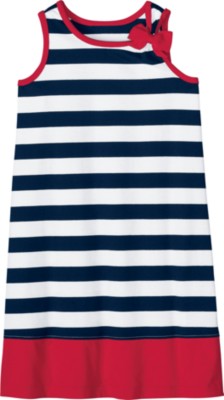 There is nothing more appropriate for a gift for kids than patriotic clothing.
Especially at this time of year. What is today's date? May 20th?
We have Memorial Day, Flag Day, July 4th and Labor Day.
It is something I buy for almost everyone
during the spring, knowing that there are 4 opportunities
for kids to wear these items between now and the fall.
Right now Hanna Andersson has $19 dresses for girls.
Regularly $28, now $19 for girls. Love this dress.
Simple but pretty and not something you would expect parents to buy for their kids. While we all have our backgrounds, Italian American, Irish American, whatever.....these are great for kids to wear for FOUR occasions between May and Sept. A great gift.
Also from Hanna Andersson...... pajamas.
Regularly $36--- Now $30. Love them.
A little pricey for a bathing suit-- $38......but adorable.
Carters Outlet has some great patriotic bathing suits for a lot less
Speaking of Carters....How cute are these? More affordable.